Small Hand Forged Drop Point Hunting Neck Knife
its mate is a custom hand forged ulu.
Knives for survival in the boreal forest. British Columbia, Canada.
Small Custom Drop Point Knife
The knife sheathed in its neck knife carry sheath secured with a hand braided lanyard over a stainless steel stud. The fire steel has an apple wood handle. Its lace has a piece of deer antler threaded onto it to tighten the hold..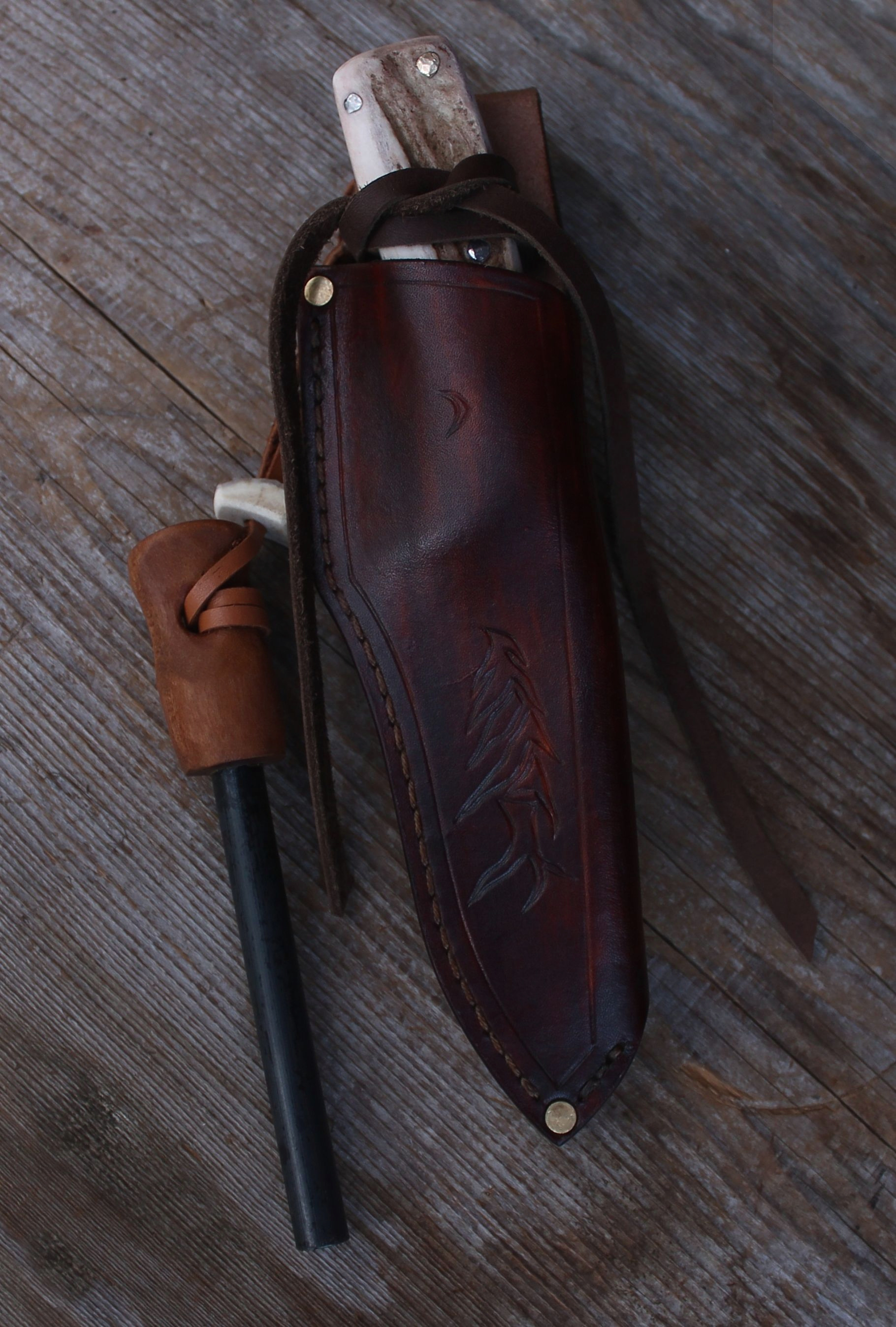 Small Custom Drop Point Knife
The Deal Maker knife went out with 2 sheaths. The neck sheath and here in its belt carry sheath. The fire steel attaches to both sheaths. The sheaths are hand stitched saddle stitch style. Each thread hole is done with a needle for a tight thread fit. A 6 oz welt between the front and back leather pieces protects the stitch from the knife's edge.
Small Hand Forged Survival Knife
3" full tang blade, 3/16" spine, 3" handle with moose antler scales. We created the finger guard with melted brass and copper. We left the saw teeth in the spine.
Handmade Drop Point Neck Knife.
We don't usually finish to a mirror finish. Of course we will upon request. What's difficult is keeping the patina. We use layers of tape, cloth but still sometimes we slip and scratch. We end up shining it up.
The brass and copper finger guard is pinned, brazed and peened to clasp the spine.
Tough small hand forged knife with a tapered full tang
We cut the carbon steel from a 20" lumber mill trim saw blade. Hand forge tapering out the tang and hammer the edge on with a high bevel. The tang is hollow ground as well putting the balance of the knife at the finger guard.
3/16 high carbon saw blade steel spine. Moose antler scales held with peened threaded pins.
Small handmade custom survival knives
6 1/2 inches overall. We try and fit the handle to be an extension of your hand
Small drop point knife and ulu hunting set.
Great for fishing or hunting. We made these knives together although there were 2 customers, one went south and one went north. The small drop point knife has 2 sheaths and a fire steel. A neck and belt carry.
Handmade custom ulu knife
Heavy duty ulu with a thick blade, high bevel with a secondary bevel. The patina was created during the hardening process. Manipulated clay and glass reflecting the wetlands where we live.
All the big trees are gone
The tallest trees here are 1/3rd the height of the Douglas fir that were here 33 years ago. Still have the stumps to prove it.. They averaged 600 years old. Some were 1000, some were saplings. Clear cut. Nothing against logging, just not this kind of logging. The mills are cutting more now than ever and laying of workers at the same time.
You can see a border of our property and crown land. We have a few spruce.
Custom Made Survival Neck Knife, The Deal Maker