We've made knives off the grid since 1997.
We've lived isolated in the bush on the edge of the Chilcotin plateau for over 20 years. No phone, every time we move the outhouse we plant an apple tree.
The lines we navigate are drawn from living and surviving in the Chilcotin bush. We do more by hand, taking the time, with the temper of the boreal forest. We try and supply enough options and choice to make each knife and tool unique to each customer. Suggestions are welcome. Handmade and Custom made.
In 1997 we left Vancouver BC and moved towards a more sustainable existence here in the Cariboo/Chilcotin region of British Columbia. Cariboo Blades was born.
Tracking the sun.
We have 3 small systems now. One is 416 watts on a tracker we built, one is a portable 200watt solar energy unit we built and one is static 75 watts. Each is independant of each other.
They left saw dust, we leave metal grindings.



Handmade Custom Knife Workshop
Building the knife shop with logs. When we build, the bonus is a winter supply of firewood from the off cuts. Back in '98.
Big 2 Metre Lumber Mill Head Saw Blade
These big saw blades are obsolete. We found a few tucked in behind some equipment in a large lumber mill 20 years ago.
Today mills cut big logs with big band saws.
A Sun Print
The sun. 4.6 billion years old with at least that much more to go. We have dedicated ourselves when we moved here in 1997 to live and work with the sun. We started from the beginning with what we needed. We have a backup generator when clouds get in our way. From March until October everything is made with solar energy. From November through February we slow down and maintain things.
Our links page is here.
The Knife Shop in Winter
Lots of light for the shop. Rather than fill in the walls and install windows and lights we covered the walls with ultraviolet protected 6mm plastic. Still need a few lights. The shop is hooked into a solar panel array for power. We stay unfrozen by a wood heater.
Old Saw Blade Knives
Old sawblades with no carbide teeth. With our kitchen knives, except for hand forged chef knives, cleavers and a few others, we can draw and cut patterns out like this one. For many of the kitchen knives we remove stock from lumber mill bandsaw blades and the thinner carbon steel mill circular blades instead of forging. We anneal the hardened saw blade steel, finish, re-harden and differentially temper.
Shop trees
With a dirt floor in the knife shop and light we have trees growing from the floor.
Foraging Mushrooms, Sun Drying Wildcraft
Foraged, cleaned and dried for winter. We forage a lot of mushrooms, Most summers we forage enough for the year.
We can wheel around that solar unit in the background and follow the sun.
We have been growing and foraging most of our food. Our knife shop and cabin are solar powered. 75% of our electrical needs are covered with solar energy.
Saw Blade Drafting Table
Drafting out patterns for knives and woodcarving tools. Each knife and tool we make starts here, on the saw blade. This is a piece of headsaw.
Swans of the Tundra
Every few years when the water is low enough swans gather over 2 or 3 weeks in November. There were 150 on the small lake (or big pond). They made the lake look smaller. Coming, going and feeding.
Rock Wall Heat Sink
A frost can come anytime here. Between June and September there are 2 or three frosts. Could be July 12th or August 2nd. We have a lot of rock. We've used the rock to alleviate the hit that frost inflicts in our gardens.
Firewood
Every fall, crisp and cool, the best time of year, we go and fetch our firewood.
Dogs
Getting along. There is no time.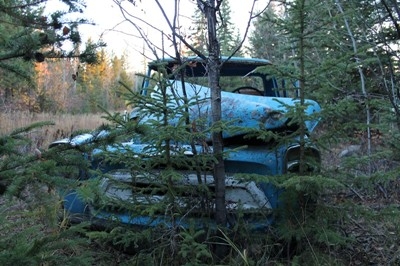 Old Truck Wrecks, A Source For Carbon Steel
Automobile wrecks are a great source for us. We recover leaf and coil springs for knives and tools.
Front Yards
this is ours. ..Lots of elbow room.
In a space between a big sky and a forest.
Winter Firewood
Kai and Scott foraging. The boreal forest burns hot and fast. On average we burn 4 or 5 cords a winter. We cook on a wood stove, heat with a wood heater and bathe in the wood heat in our sauna.
Chickens are smarter than we think they are.