Custom Made Ulu Knives, Custom to Order.
As a fillet knife or a skinning knife the ulu can't be beat.
Each ulu is cut from a single piece of recovered lumber mill high carbon saw blade steel. Tough and strong modern carbon steel. After we finish the ulu knife blade, it's hardened and tempered to keep a razor sharp edge. We go back into the steel with a torch and differentially temper the single stem tough. We leave the heat treatment colours and subtly manipulate the clay and glass used in the hardening process to reflect the boreal forest wetlands. The wood, moose and deer antler has been recovered from local sources. This is a great tool and we love making them.
Cariboo Blades Custom Handmade Ulu Knives Image Gallery.
Different styles of handmade ulu knives we've made. Kitchen ulus, bushcraft ulu's, camping, hiking and hunting ulus.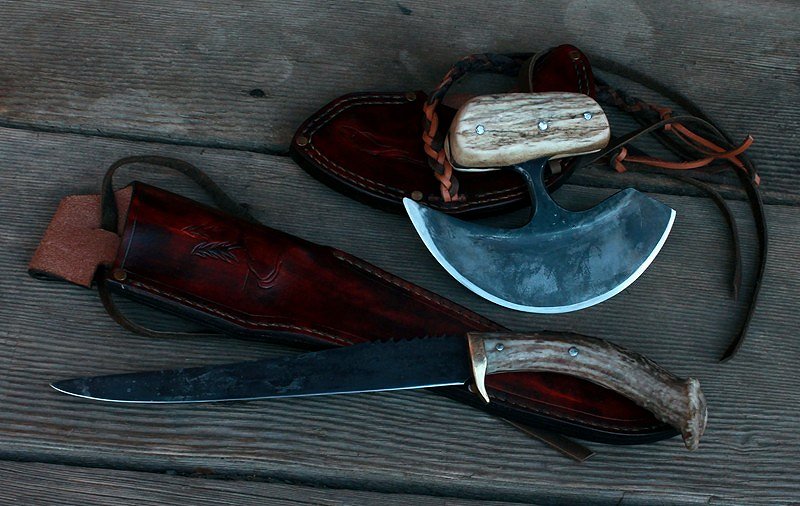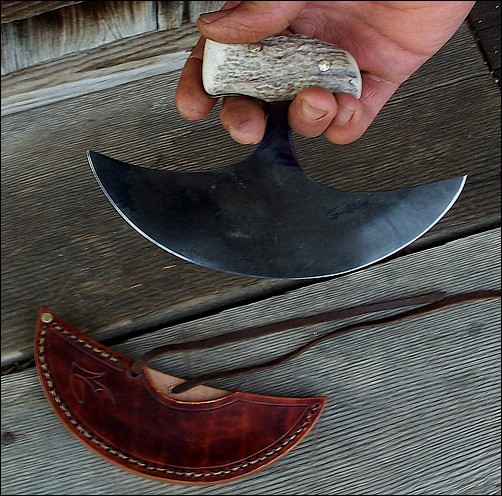 Irregular antler handle shapes fit snugly in your hand giving you a firm grip. If you would like wood for your handmade ulu handle we have different varieties of local wood. Balanced at the stem neck and guaranteed to keep a tough and strong razor's edge. Thicknesses vary between a thin 1mm to 5mm thick.
Image Gallery of ulus in knife sets
Visit a Cariboo Blades Ulu knife review.
The ulu knife is an ancient tool. A traditional Inuit Woman's knife design some 4,500 year old. A tool for a kitchen, a camp, on a hike or in a bushcraft, survival or hunting kit. For slicing, jerky, filleting, chopping and mincing in a unique and efficient way or as a head knife for leather work. As a hunting tool, the ulu is the best skinning knife, a great tool for your kit. Tools and designs that are proven by people who live in the harshest conditions on earth.

ImageGallery. Ulu sheaths styles.
Working art for a counter top. Amazing grain and colours. Cut and shaped to protect the ulu's razor edge.
Image Gallery of counter top ulu blocks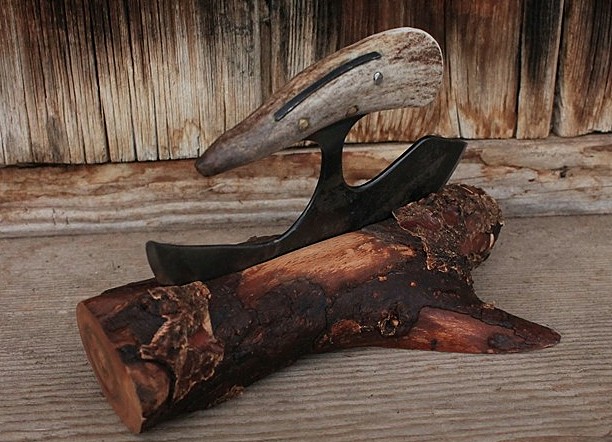 We make the sheaths by hand out of 8 oz. saddle leather and saddle stitch with a fillet sandwiched between the front and back pieces of leather protecting the stitch from the knife edge.
The original designs on the face of the sheaths are hand drawn and tooled by Aki. You can request a custom motif.
Our ulus start at - $375
Sheaths start at - $125
Fruit wood knot blocks - $100

Heavy Duty Ulu Knife
Image Gallery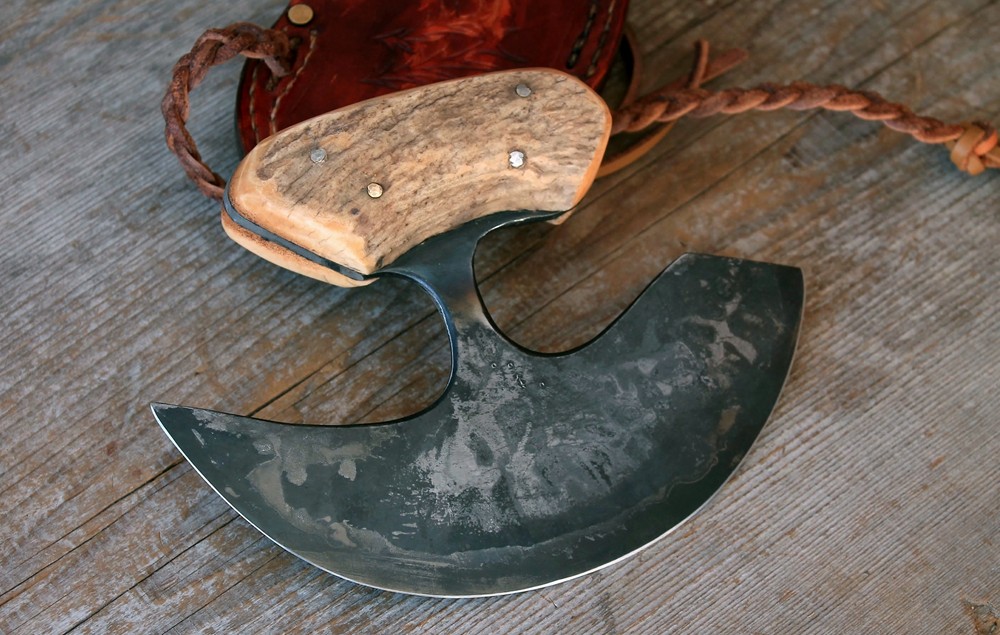 The blade is made from recovered carbon steel cut from lumber mill saw blade. The blade is hand forged with a high bevel going up into a 1/4 inch tough stem. Hardened and differentially tempered for toughness and an edge that holds.
The handle scales are held with threaded stainless steel or brass pins.

The sheath is hand made from 8 oz. leather.
Double saddle stitched by hand. A fillet is sewn between the layers of leather protecting the hand stitching from the razor edge of the ulu.
Rivets are placed along the edge and rounded corners for reinforcement.
We've added a braided lanyard to the sheath to tie to your pack. The motif tooled into this sheath would be a kingfisher.
Heavy duty start at, $ 450, 8.5 inches of edge
Sheaths, $ 225 , double saddle stitch, rounded corners and lanyard
LIFETIME GUARANTEE We guarantee your complete satisfaction with the materials and workmanship on all our tools and knives. All our knives can be sent to us to be sharpened. The sharpening is on us.