Custom Handmade Kitchen Knives.
Every day use working knives.
From the edge of the Chilcotin Plateau, British Columbia, Canada.
We recover modern high carbon steel, copper and brass from lumber mills and mines, recover wood from artisan and orchards, recover antler from the boreal forest. We process the materials, hand forging, up cycling and re-purposing into heirloom kitchen knives. Quality handmade working knives for everyday use in your kitchen.
Aki Yamamoto, Kai and Scott Richardson.
Chilcotin Santoku
9" full tang blade, walnut scales and copper rivets. We manipulate the patinas with clay and glass and leave them for rust protection.
All our knives carry a lifetime guarantee on craftsmanship and materials. You can ship the knives back to us for sharpening - the sharpening is on us.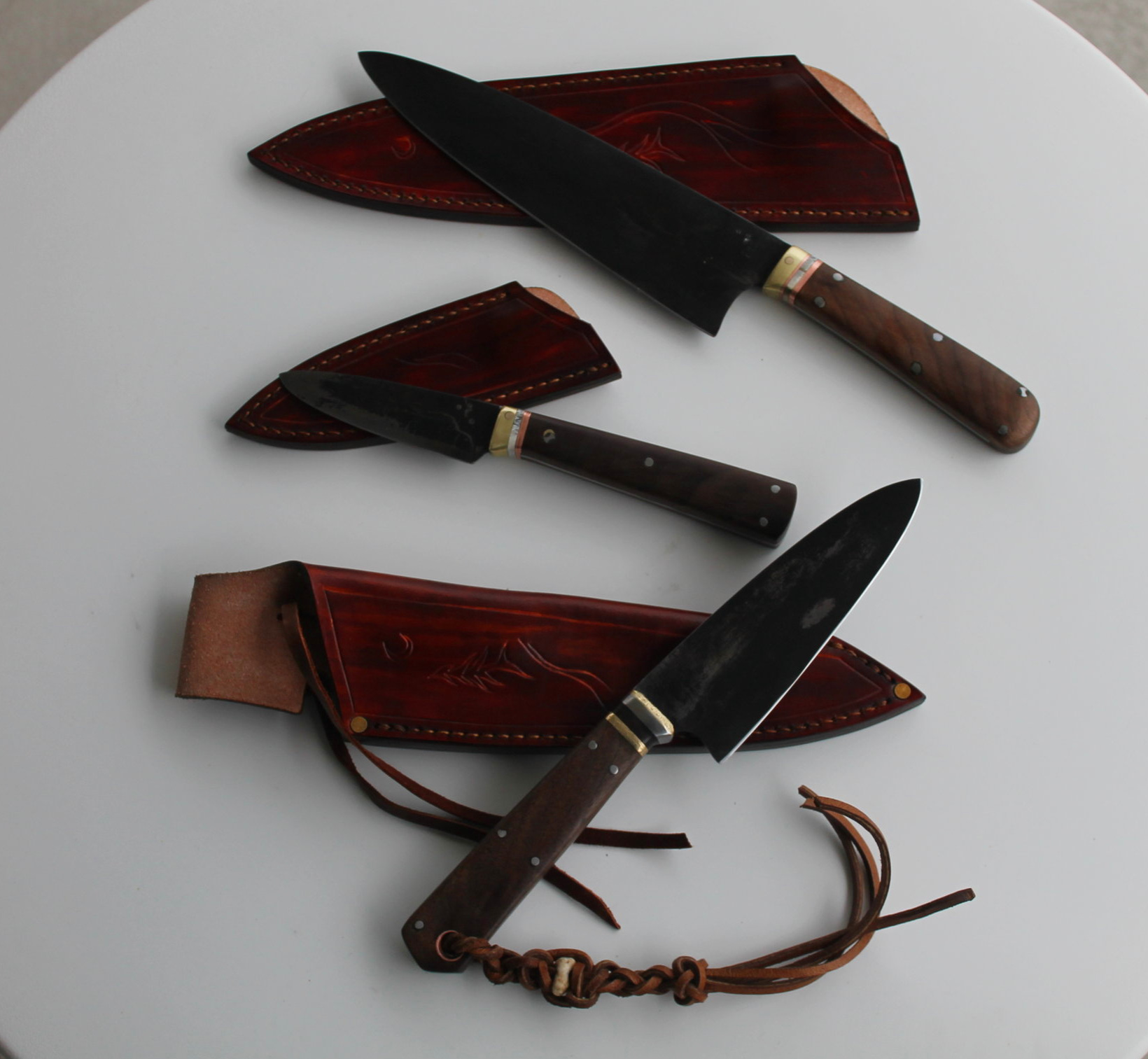 Chilcotin Japanese Fusion Set
It's a set for travel, hiking and camping. The Deba knife went with a belt sheath. The lanyard hole is lined with brass. The lanyard is hand braided with a piece of antler woven into it. The paring knife and the Santoku / slicing knife both went with blades sheaths. They all have walnut scales, brass, copper and antler. Crecent Moon series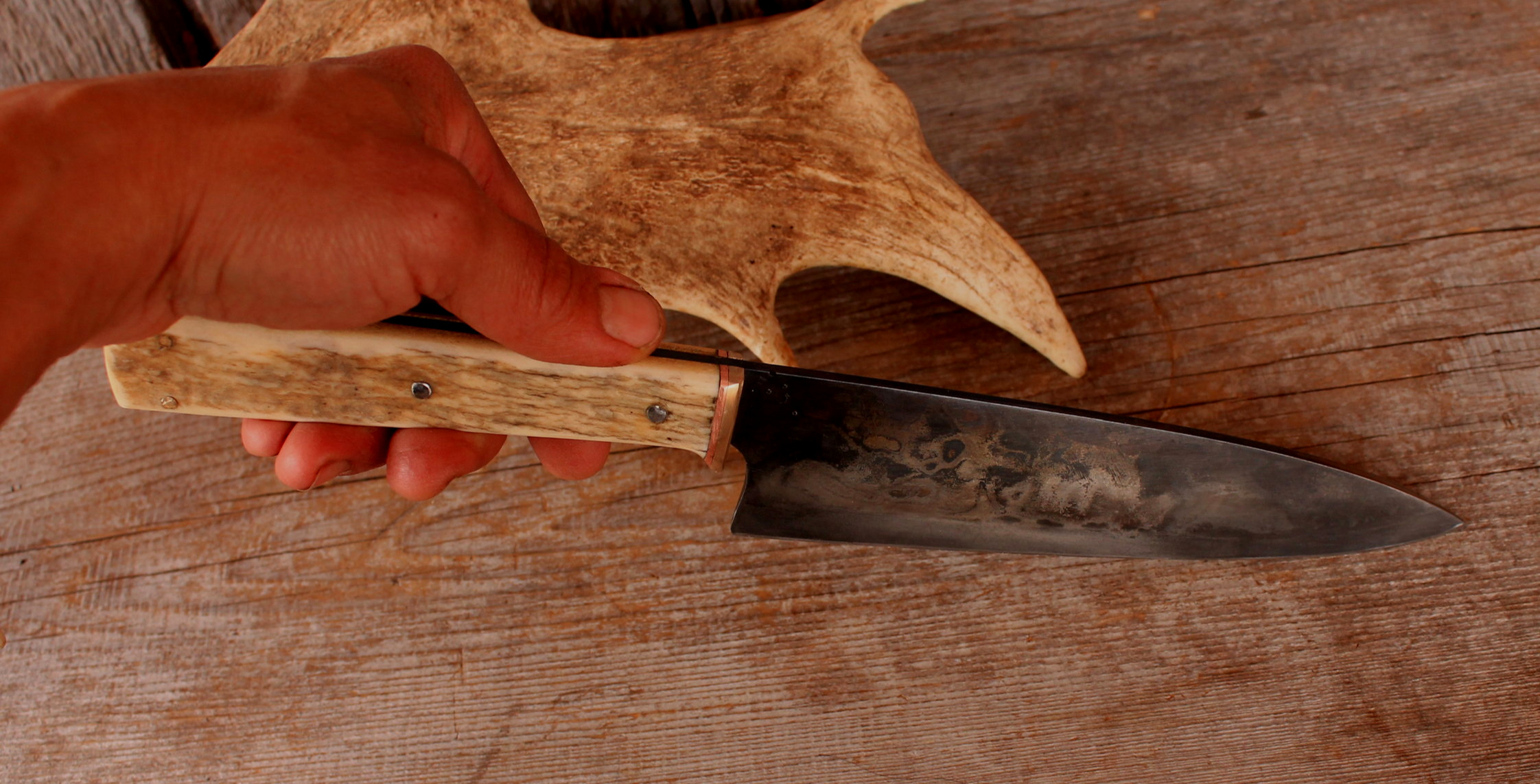 Chilcotin Yo-deba
Beveled on one side or both. This knife has a 6" full tang blade 3/16 thick high carbon steel. The handle is 5" long and has moose antler scales.
Manipulated patinas using clay, glass and heat during the heat treating process. We reflect the images of the wetlands we live in and the patina add a protective barrier against rust. Aki and Scott have both been trained in printmaking.
Handmade Custom Chilcotin Plum Gyutou / Chef Knife
1/8" thick spine, full tang 8.5" blade with a wide bevel, brass guard with plum wood scales.
Chilcotin Nakiri / Vegetable knife
It's a large Nakiri. 7" of edge with a 5.5" long walnut handle. 1/8" thick spine.
Chilcotin Gyutou
8" full tang blade with yew wood scales, copper,antler and brass.
When choosing a blade style, length, spine thickness, handle scales are another custom choice. We have most fruit woods.and yew, walnut, juniper, hickory, butternut etc…we have a few choices. We also have moose, elk and deer antler.
Custom Deba Knife
6 inch full tang blade, walnut scales.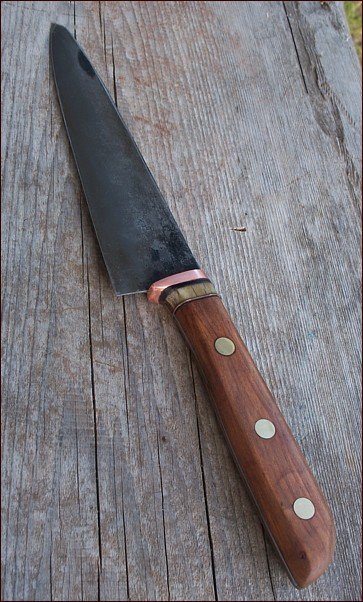 Chilcotin Hankotsu / Boning knife
A 6" full tang blade with plum wood scales, copper rivets. The brass guard is followed by leather, antler and copper inserts. The blades are hardened and tempered for the task at hand. We go back into the blades, differentially tempering the spine from the edge.
Chilcotin Juniper Deba
Smaller 4" blade deba knife.
Chilcotin Juniper Gyutou
Full Tang 10" blade with Juniper wood scales.
Chilcotin Antler Deba
Smaller deba knife with a 4" blade and a 4" moose antler handle.
Chilcotin Hankotsu Knives
5" full tang blades, 3/16" spines. Tough boning knives. with wood or antler handles.
Chilcotin Boning Knife
6" full tang blade, brass finger guard and spalted apple wood scales.
Chilcotin clipped point Sushikiri
Chilcotin Cherry Wood Nakiri
Handmade Custom Slicing Knife
7" full tang blade, 2.5 mm spine. plum wood scales.
Cariboo Blades Line of Chilcotin Japanese Influenced Cutlery