Traditional Handmade Wood Carving Knives & Tools
Custom made woodworking tools.
Apple, cherry, walnut and yew wood handles. The blades are from high carbon steel we recover and recycle from lumber mill saw blades and truck springs. British Columbia, Canada.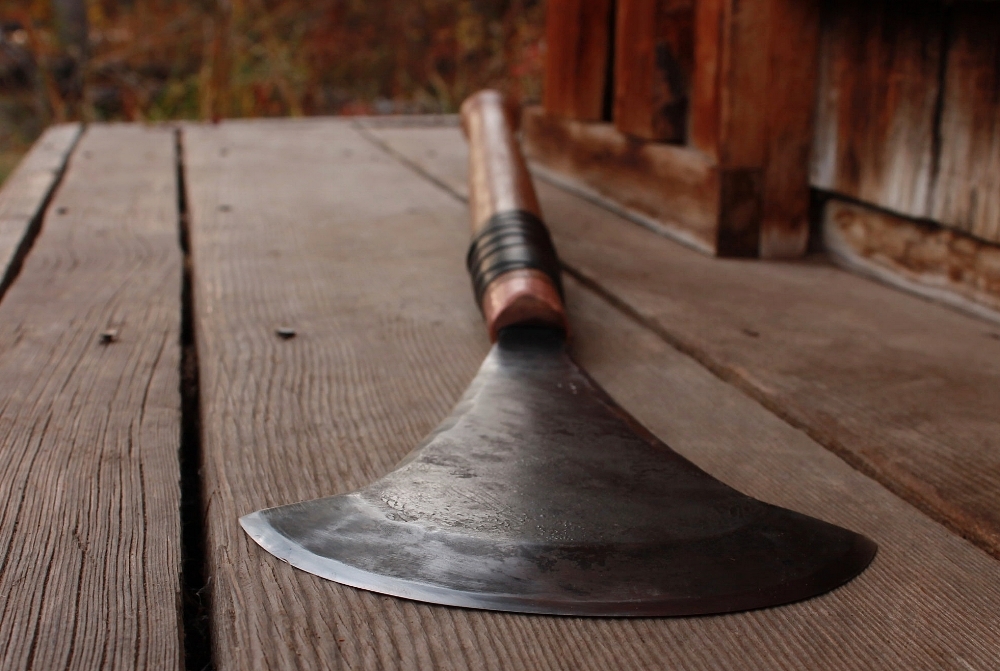 Log Home Building Tools, Woodcarving Flared End Slick
Lots of sharp edge, 25 degrees, for carvers and log home builders. It has 8" of edge and 2 very sharp flared points. The Oak handle is 24" long, the blade is 8.5" long. 32.5" overall. A woodworking tool with a hand forged high carbon steel blade from a 6' diameter head saw blade. Hardened and differentially tempered blending tempers for a tough and strong hand tool.
Bowl Carving Knife
The hook on this bowl and spoon carving crooked knife has the double bevel on the bottom side. We hand forge the hook blade to the the width of the handles. The handle is 10" long for two hands.
Custom made, Cariboo Blades, Aki, Kai and Scott make your hook knives custom to order. For more information visit our Crooked and Hook Knife page.
Custom Woodcarving Tools, Handmade Woodcarving Slick
A 2 1/2 inch edge carver's slick. Set 4 inches into a mahogany handle with a copper ferrule.
The slick head is slightly curved and cupped reminiscent of a woodcarving bowl adze
Traditional Handmade Crooked Knives and Adze Set
Bowl carving knives and tools. This picture was taken inn the light of the forest fire lit sky. A set of custom made woodcarving hook knives with a hand forged 2.5 inch adze. Pacific Northwest carving tools.
We were under an evacuation order for 7 weeks. Never saw a direct threat so we stayed in protecting our animals and gardens and built this set of custom carving tools.
Our Carving Adze page.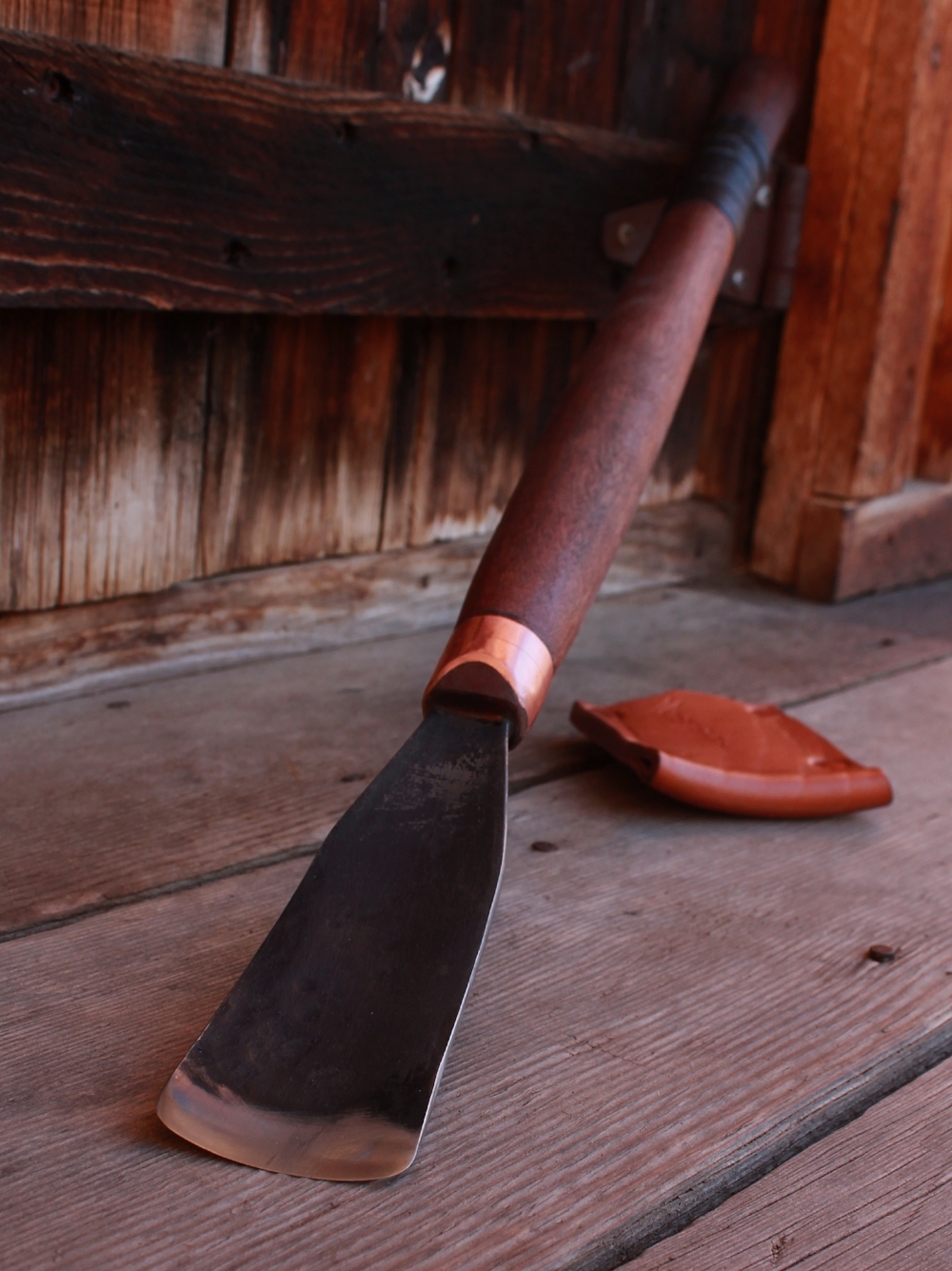 2 Inch Edge Carver's Slick
28 inches overall. We wrap a bit of leather on the handle for a better grip. This slick is a custom woodcarving tool. A carver can specify the edge width, shape and angle, handle length and width.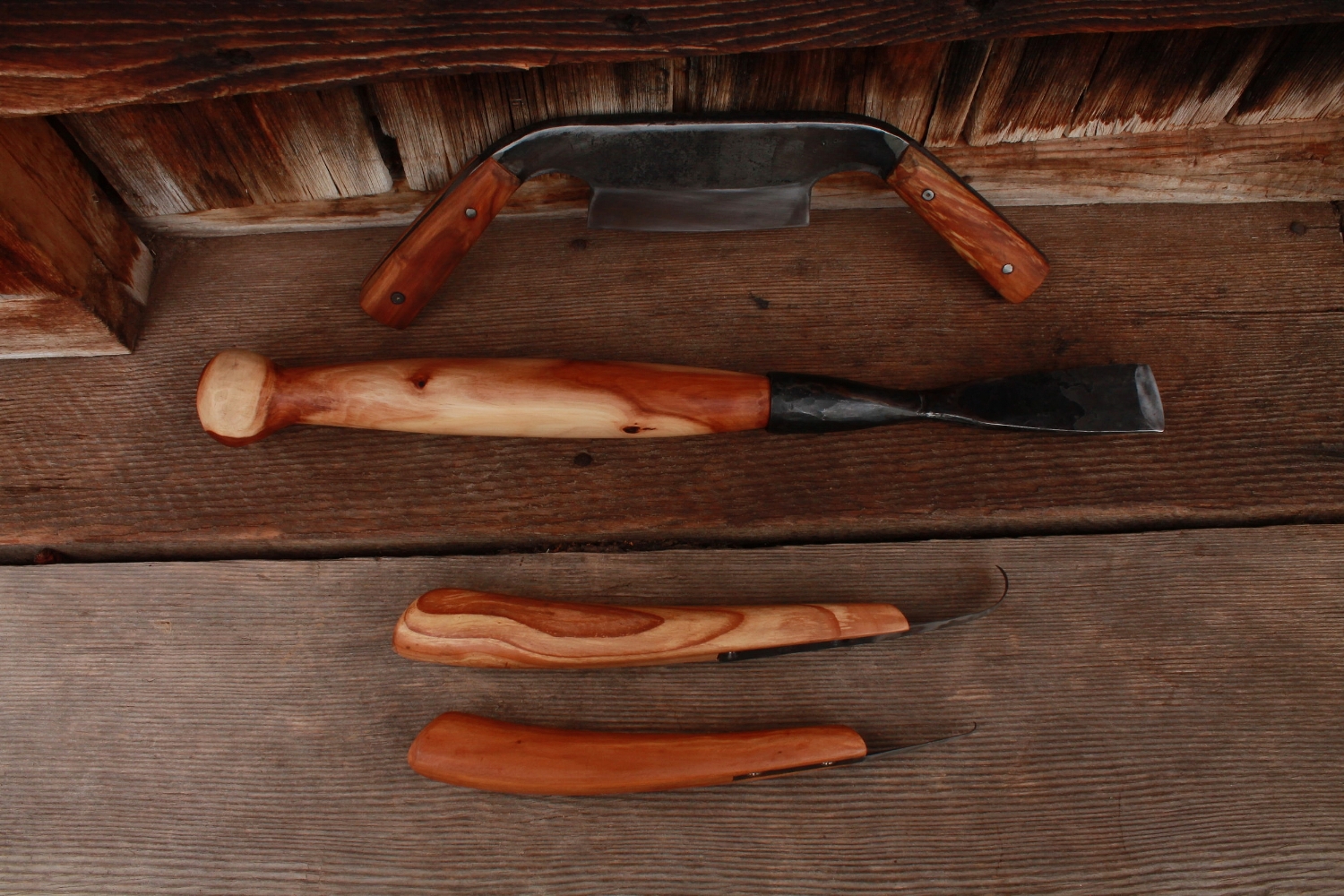 Hand Forged Wood Working Tools & Slick
Apple wood handles. The slick has a slightly curved edge and slightly cupped, 20 inches overall. The hand forged draw knife's spine is 1/2 inch, edge is 4 inches. The handmade hook knives include 1 medium and 1 small knife.
Custom Handmade Draw Knife
1/2 inch spring steel. Heavy duty 3 pound draw knife with full tang walnut wood handles. Differentially tempered and forged from one piece of steel.
Cariboo Blades is Aki, Kai and Scott and we pound these knives out by hand. Hand finished. They will cut through the toughest knots and leave a glass like finish behind. Please visit our Draw Knives page.

Custom Hand Forged Draw Knife
We forge the wide bevel and offset the handles for a comfortable and efficient draw.
Handmade Bushcraft Knife & Chisel
Apple and walnut handles. Tough Mountain Caribou survival knife and a 1 1/2 inch bush chisel with a belt sheath, 20 inches overall.
Please visit our Bushcraft Survival Knives page.
2 Hand Forged Woodcarving Adze
Hand forged adze with apple wood handles. One has a 4 inch edge hand forged from 1/2 inch spring steel and a 20 inch long handle. The other has a 2 1/2 inch edge hand forged from 5/16 thick lumber mill saw blade. The angles are reminiscent of Pacific Northwest carving adze.
Please visit our Carving Adze page.
Tool Blade Patinas
Patinas help protect the carbon steel from rust. We create images and patterns with our patina using clay, crushed glass and heat.
Hand Forged Timber Framing Tools
Framing hand tools with teak and mahogany handles. 5 tool set including a corner chisel and a framing slick. Hand forged chisels, hardened and differentially tempered.
Please visit our Chisels and Slicks page.
Handmade Wood Carving Knives. Crooked Knife Set
9 knives. 3 large and 6 small woodcarving hook knives. The picture was taken with light from the wildfire lit sky. This set will handle any size of bowl carving, mask, spoon carving or ladle.
Handmade Woodcarving Knives with Yew Wood Handles
Crooked knives with yew wood handles.
Yew is a hard conifer wood. Traditionally used for tool handles on the Pacific Northwest coast.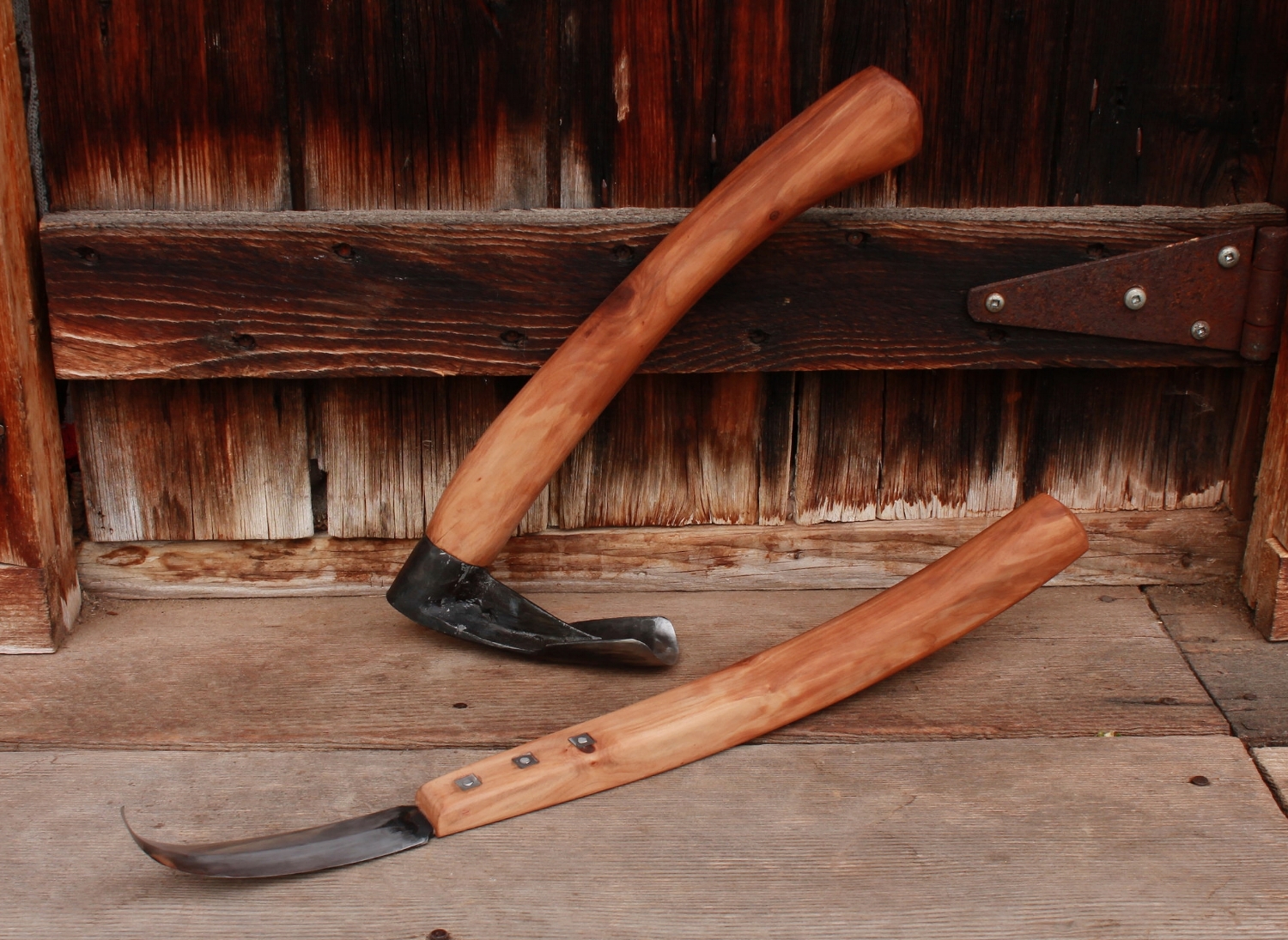 Hand Forged Bowl Carving Knife and Adze
A hand forged wood carving knife. We forged the hook knife from 1/4 inch saw blade steel. Its 20 inches overall. The blade has two 6 inch edges, double beveled. The hand forged adze has a 2 inch edge. Both have apple wood handles.
Knife Maker's leather Work Bench
One of Aki's work spaces.This is the leather work desk.