Hammer Forged Wood Carving Adze,
Working Art to Make Art.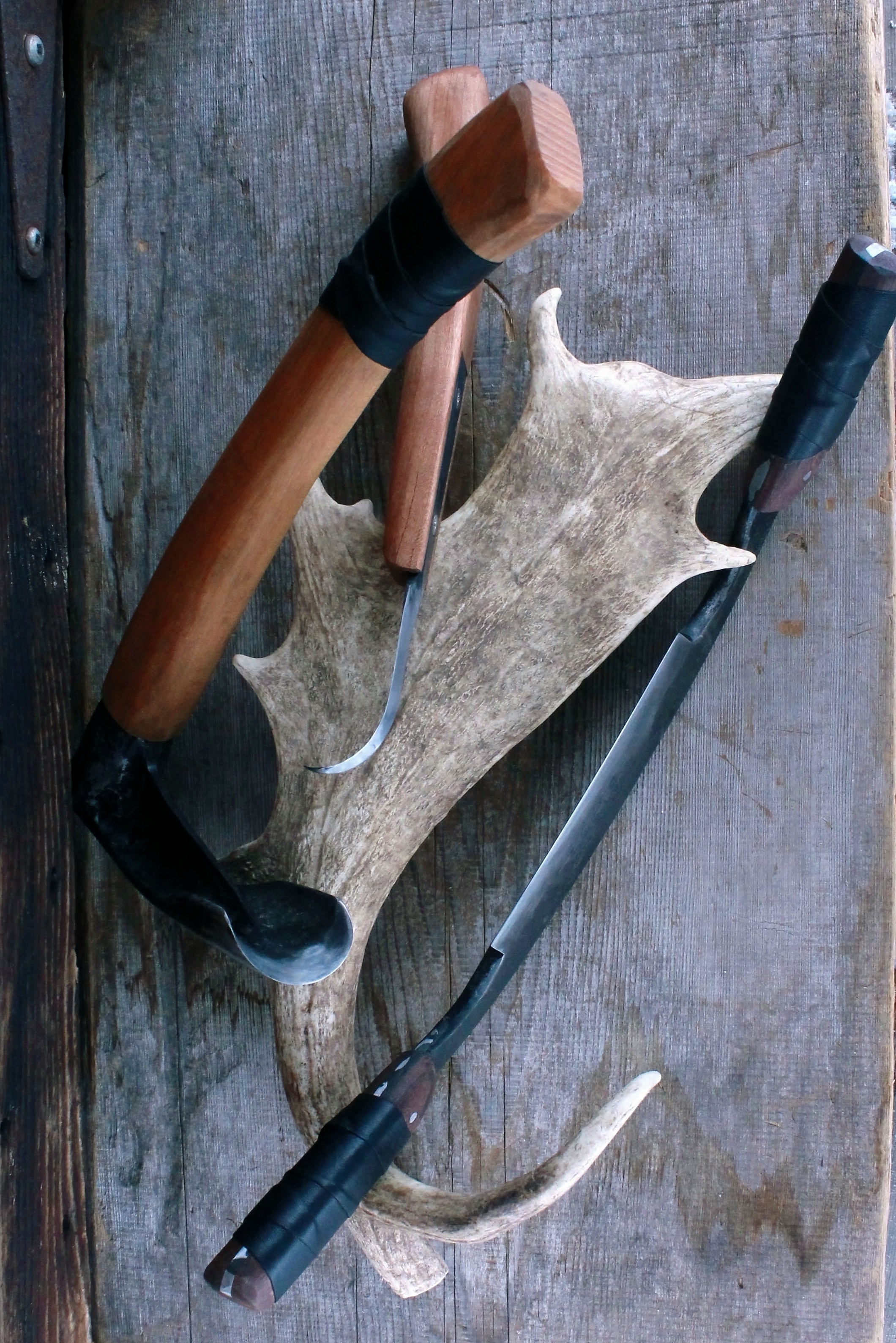 Bowl Carving Tools. Bowl Adze, Hook Knife & Draw Knife
A 1.5 inch adze with a woodcarving hook knife, cherry wood handle, bevel down and a 5 inch draw knife with walnut wood scales wrapped in a bit of leather for grip. A good bushcraft set of carving tools.
Visit our Carving adze page for more information, pictures and pricing.
In 1991 Scott attended a studio art program at Capilano University. George Rammell, who is arguably one of the best sculptors in technique in the world, taught Scott how to make his own Pacific Northwest woodcarving tools.
Carving Adze for Bowls and Sculpture
Two adze, a 1 1/2 inch edge and a 2 inch edge. These two are carving out canoes in the Everglades.
Hunting and Woodcarving Tools and Knives Set
Bowl Carving and Tongs
This bowl and salad set tongs were carved with an adze and a hook knife/ crooked knife. The bowl was a pitched filled chunk of fir and the tongs were carved from cherry wood. Make a bowl without a lathe. Use hand tools. Make your own bowl carving tools.
Hand Forged Custom Wood Carving Set, Bowl Carving Tools
Carving bigger sculpture. A Carver can custom their tools to size depending on the size of the piece. This set has a 1.5 inch lipped edge adze, 3 inch carver's slick, 28 inches overall, an 8 inch draw knife and 2 large crooked knife blades. This is a set able to handle large and small pieces. A great set of bowl carving tools.
Visit our Carving adze page for more information, pictures and pricing.
Hand Forged Adze
Two adze. Foreground is a 2.5 inch lipped and slightly cupped blade with a 16 inch long apple wood handle. Second handmade adze has a 4 inch dished and curved edge. It has a 20 inch apple wood handle.
" Hi Aki and Scott, Tools are next level awesome!!!! Thank you"
Dave R
.
Forged Custom Edges, Wood Carving Adze
Straight 1 inch lipped adze. A good versatile size for bushcraft and carving.
Most of the bevel is on the inside with a bevel on the outside. Your tool with perform better carving organic shapes like carving bowls and spoons, touch-ups keeping the adze razor sharp is much easier and quick and the adze won't stick.
George Rammell worked with Bill Reid, a Haida carver from the Pacific Northwest. George was Bill Reid's right hand man.
Hand Forged Carving Sculpting Adze
3 inch edge with a 22 inch long mahogany handle. The blade is hand forged from head saw blade steel. The edges are beveled high on the inside at 25 degrees and beveled 1/4 inch high at 5 degrees on the outside.
Woodcarving adze designed from the shapes and angles on the more traditional elbow adze. A kind of hybrid construction.
Hewing Adze, Bowl Adze and Mask Carving
We make an adze to carve the bowl out and a small adze to carve and shape the outside. A good adze for shaping masks and bowls.
Custom Handmade Bushcraft Adze
Long and hefty applewood handle bushcraft adze.
The adze has a 16 inch long apple wood handle, lipped and slightly curved 1 1/2 inch edge with a hand forged spooned blade. This size and shape is an excellent woodcarving adze.
Custom Hand Forged Straight Edge Adze
Log and timber hewing. Woodcarving and sculpting.
Woodcarving Show Tool Display
We use to travel and sell our tools and knives,