Crooked Wood Carving Knives

We offer strong custom handmade woodcarving knives from recovered high carbon lumber mill bandsaw and circular saw blades. Hardened and differentially tempered blades with hardwood handles.
Traditional woodcarving tools used by carvers in the Pacific Northwest for sculpture in wood. For carving  spoons, bowls, masks, totem poles and dug out canoes they are indispensable. Crooked knives, also
called hook, crook and bent knives are ideal for sculpting organic shapes.
Bent, crook, crooked and hook knives are found all over the world used by flute making and string instrument making,  cabinet makers, artisans and hobbyists. An indespensible tool in a bushcraft kit and traditional boat builders tool box.

Double bevelled hook and crooked knives are a fine addition to your carving kit in combination with  adze, draw knives, slicks, skews and chisels. Traditional tools of the indiginous peoples of the Pacific Northwest for carving carving bowls, totems, canoes, spoons and ladles, reliefs and furniture.  Double bevelled edges, two straight edges, two curved gouge edges,  both left and right handed in one carving knife.


Annealed, shaped, hardened and then differentially tempered.  The edge will hold carving fruitwoods like cherry, plum and apple - honing is all that's needed to maintain it.  Lumber mill bandsaw steel is strong and tough at the same time.
A photo gallery of our crooked knives.

We offer to build your hooks bevel side down.
The handles are shaped to fit in the palm of your hand when pulling toward or pushing away from yourself. The thicker end of the handle can be used to hold with your other hand. You would secure your work to carve. 

Please click on the picture to the right to see an example.


A small size has a 6 1/2 inch handle and a 1 3/4 inch to 2 1/8 inch edge.
Medium has an 8 inch handle with 2 1/2 inch to 3 1/4 inch edges with 3/16" tangs.
Large knives have 10 inch handles, 3 1/3 to 4 1/4 inch edges with 3/16" tangs.



Image gallery of how to hold and carve with a crooked knife.
Crooked knife sets and Woodcarving tool set gallery.


The hook knives below  are examples of some basic shapes and provide a guide to our pricing. You can request your own shapes and we'll make them.

Style     Small   Medium   Large

#1          $305     $385       $430


#2           $285     $360       $415


#3           $265     $335       $390
6

#4           $230      $285       $325


#5           $230      $285       $325


#6           $245      $295       $335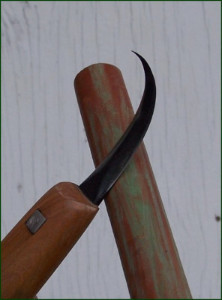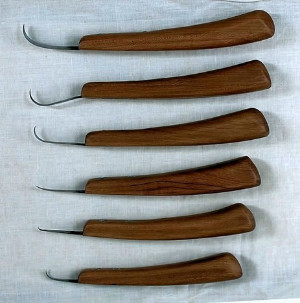 Custom
We sell hook blades separately (without the handle).  We will make custom blades, narrow or wide, arrow or straight, any shape or size. The cost for each blade is roughly half the


We make another kind of crooked knife.  Horse shoeing knives. A spoon and mask knife and as a general woodworking tool. There are lots of hoof knives. We make farriers' knives with a
lifetime guarantee.